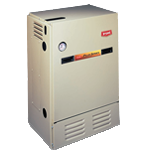 If your home has hot water radiators in each room for heat, you have a boiler to heat the water. Like a furnace, the energy efficiency of a boiler is given as the Annual Fuel Utilization Efficiency (AFUE). Boilers manufactured since 1992 must have an AFUE of at least 80%. We offer a complete line of gas and oil boilers starting at 80% AFUE and up.
Axeman Anderson
The best boilers in America are built by Axeman-Anderson. Shown to the right is our NPO Oil Fired Hot Water Boiler. These units are engineered for ease of installation and maintenance. The NPO Series has D.O.E. annual efficiencies AS HIGH AS 88.7%. Listed below are some of its New Advanced Design Features.
Bosch Boilers
We sell Bosch boilers.
Gas Boiler Product Offering
Oil Boiler Product Offering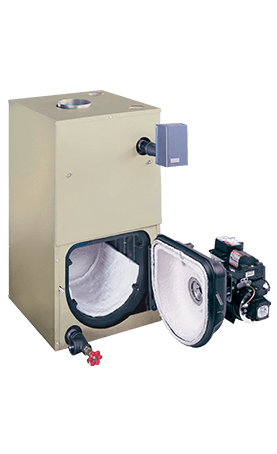 Preferred™ Series BW5 Boiler
View Brochure
Model Family: BW5
Annual Fuel Utilization Efficiency: Up to 86.2% AFUE
Energy Star Rated: No
Heat Exchanger Warranty: 20-year parts limited warranty on heat exchanger
Warranty: 5-year parts limited warranty if registered in 90 days
Manufacturer's Stated Benefits:
Integrated boiler control
Cast-iron heat exchanger
Pressure-relief valve
Tankless heater coil
Sectional cast-iron design
Small compact design
Swing burner door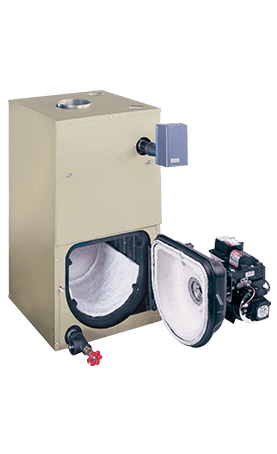 Preferred™ Series BW4 Boiler
View Brochure
Model Family: BW4
Annual Fuel Utilization Efficiency: Up to 86.2% AFUE
Energy Star Rated: No
Heat Exchanger Warranty: 20-year parts limited warranty on heat exchanger section
Warranty: 5-year parts limited warranty if registered in 90 days
Manufacturer's Stated Benefits:
Integrated boiler control
Cast-iron heat exchanger
Pressure-relief valve
Sectional cast-iron design
Small compact design
Swing burner door