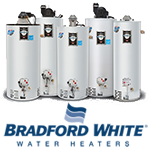 Conventional Water Heaters
After heating and cooling, water heating is typically the largest energy user in the home because it is necessary for so many domestic activities. Conventional storage water heaters remain the most popular type of water heating system for homes and buildings. The capacity of a water heater is an important consideration. The water heater should provide enough hot water at the busiest time of the day.
Tankless Water Heaters
Tankless water heaters, also known as demand-type or instantaneous water heaters, heat water directly without the use of a storage tank and provide hot water only as it is needed. When a hot water tap is turned on, cold water travels through a pipe into the unit. Either a gas burner or an electric element heats the water. You don't need to wait for a storage tank to fill up with enough hot water and you don't produce the standby energy losses associated with storage water heaters, which can save you money.
Frequently Asked Questions