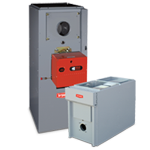 Our oil furnaces use no.2 fuel oil burned in a sealed chamber to heat an exchanger. Just like gas furnaces, oil furnaces also carry AFUE ratings and start at 80% AFUE.
Thermopride
Thermo Pride products are backed with outstanding warranties and buyer-protection programs. The proven longevity of Thermo Pride's octagon oil heat exchanger, combined with the Limited Lifetime Warranty, virtually eliminates the worry of ever having to replace your furnace. When you select our heating or cooling products you're buying more than just a system - you're buying Peace of Mind
Thermo Pride products are hand built to the highest standards of quality and efficiency.
Thermo Pride provides a full range of Energy Saving heating & cooling products to meet your every need, from residential spaces to commercial facilities.
Oil Furnace Product Offering